Study & Analysis of all 5 star hotels in the country
An in-depth analysis regarding all 5 star hotels in Greece, that indicates the strengths and weaknesses of luxury hospitality in Greece, both in the physical and in the digital world, giving hoteliers valuable insights that would help them optimize the experiences offered to their guests. Wishing to contribute in the continuous upgrading of the Greek Tourism product, the current research shares data and key findings that, when properly used, would affect the way that luxurious hospitality in Greece is being offered, experienced, and shared online.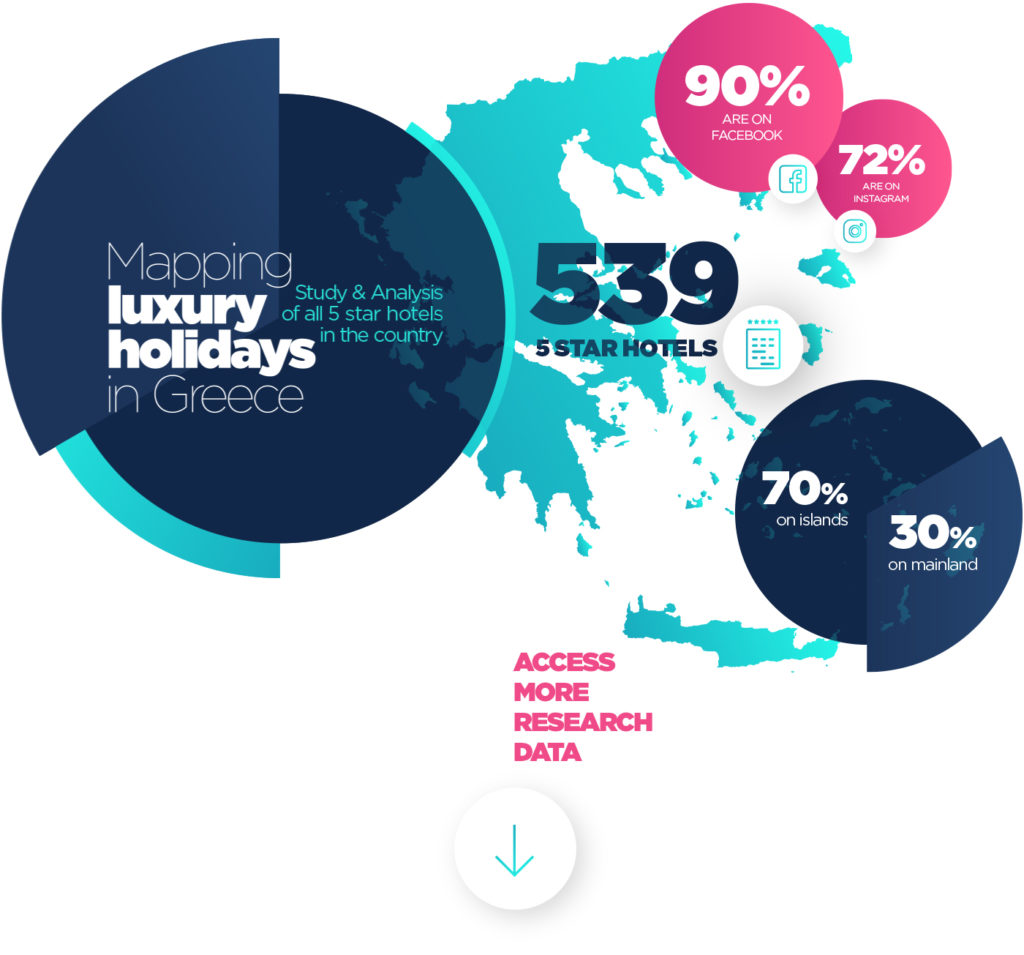 The key data that the research ended up in, touch a wide range of topics, making its findings applicable to both physical and digital environment – such as the ones that follow:
Mapping the 5 star hotels in Greece
– In Greece, the number of 5 star hotels is up to 539 in total.
– 40% of the 5 star hotels in Greece are open all year round while 60% of them are seasonal
– 70% of the 5 star hotels in Greece are island-based. Only 30% of them are mainland-based.
The 5 star experience offered, as illustrated on guest reviews
– The average score of 5 star hospitality in Greece is 4.4/ 5 on TripAdvisor, 8.76/ 10 on Booking.com and 4.49/ 5 on Google
– Cleanliness is the element being highlighted in guest reviews, having the highest score in TripAdvisor and Booking.com. On the contrary, value for money seems to be having the lowest score, highlighted as a weakness of 5 star hotel offering.
The 5 star hospitality in Greece, as captured in hotels' websites
– 90% of the 5 star hotels in Greece have an online booking option on their websites
– Only 46% of the 5 star hotels in Greece have a newsletter subscription on their websites
– The average monthly organic traffic of all hotels websites is 392K
– Hotel websites offering the online booking option have 3.3X more organic traffic than those who don't offer this option.
– Hotel websites with mobile version have 1.4x more organic traffic than those who don't have a mobile version
– Hotel websites with https have 2x more organic traffic than those who don't have https
The 5 star hotels in Greece on Social Media
– 90% of the 5 star hotels in Greece have a Facebook Page
– Only 72% of them have an Instagram page, despite Instagram's popularity as a platform and its special gravitas in the travel industry.
– 2.5m photos have been shared on hotels Ιnstagram locations
– 4.7k of posts on average have been shared on each hotel's Instagram location
Hotels located in Santorini and Mykonos are the ones with the most likes on Facebook pages and the most followers on Instagram